INGREDIENTS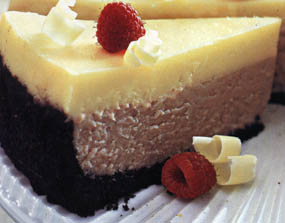 Crust:
1 9-ounce package chocolate wafer cookies, coarsely broken
6 Tbsp unsalted butter, melted

Filling:
1 12-oz package frozen raspberries, thawed, juices reserved
6 oz good-quality white chocolate, finely chopped
4 8-oz packages cream cheese, room temperature
1 1/3 cup sugar
2 Tbsp all-purpose flour
4 large eggs
2 Tbsp whipping cream
2 tsp vanilla extract
1/2 tsp almond extract
white chocolate curls for garnish
INSTRUCTIONS

For the crust: Preheat the oven to 325 F. Butter a 9-inch springform pan with 2 3/4 inch sides. Double-wrap the outside of the pan with heavy-duty aluminum foil. Plake cookies in a food processer and blend until coarse crumbs form. Add butter and process until evenly moistened. Press crumb mixture firmly onto bottom and halfway up the sides of the pan. Bake crust 8 minutes and cool on a rack.
For the filling: Press raspberries and juices through a fine strainer into a small bowl. Measure 1/2 cup puree for filling. Stir white chocolate in a small metal bowl set over a saucepan of simmering water until just melted and smooth; set aside.
Using electric mixer, beat cream cheese and sugar in a large bowl until smooth and fluffy. Beat in flour, then eggs 1 at a time. Beat in whipping cream and vanilla.
Transfer 2 1/2 cups batter to a medium bowl and stir in melted white chocolate. Stir the raspberry puree and almond extract into the remaining batter in the large bowl.
Pour raspberry batter into the baked crust; place the pan in a large roasting pan. Pour enough hot water into the roasting pan to come 1 inch up the sides of the pan. Bake until raspberry filling is softly set in the center and beginning to puff at the edges, about 50 minutes. Remove the pan from the oven and let the raspberry layer cool 5 minutes to firm slightly.
Starting at the edge of the pan, spoon the white chocolate batter in concentric circles onto the raspberry layer. Smooth the top. Bake until white chocolate filling is set in the center, about 30 minutes.
Refrigerate cake until cold, at least 4 hours.
To serve, cut around sides with a small knife to loosen the cake, then release the sides. Garnish with chocolate curls.
Serves 12 people who are a) not on a diet and b) quite hungry. Seems to keep well for several days.
REFERENCE
Bon Appetit, March 2001, p 152.
| Top |

Except where noted, all material on this site is &copy 2002 Rebecca J. Stevenson