DAILY RAMBLING
June 21 was the last update. Good grief.
Random thought upon waking up today: A hundred years from now, the phrase "intelligent design" is trademarked by a genetic engineering corporation and promptly repudiated by those who see the effort as hubristic.
Today is the sixth straight day of rain; no flooding locally that I know of, but it's getting a bit tiresome. Last night we turned the heat on for the first time this season.
And finally... she's growing up!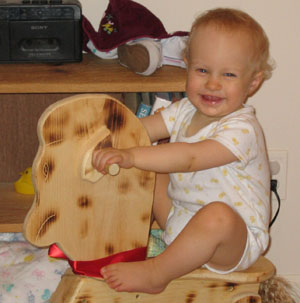 WHO AM I?
Why do these descriptions always end up sounding like personal ads? I'm 32. Gemini. After nine years in Boston, I now live in Worcester with my husband and daughter. Freelance technical writer. Am owned by three long-haired cats: Amber—she likes to sit on my lap while I work and hinder my typing— Cicero—he talks a lot—and Jasper, who is diabetic and combines Cicero's talkativeness with Amber's liking for being on my lap while I work in one very large, fluffy cat. Refuse to abide by my market segment.
Most of my hobbies are readily deduced from the content of this Web site, but others include yoga, not having time to clean my apartment, and making fun of everything on TV, although that last one has been harder since we got rid of the cable (Feb. '03) and all of them have been harder since Lydia came along (July '04).
For pictures of some of the above, check out The Gallery.
| Top |

visits since 25 June 2000:

Made With Macintosh
Except where otherwise noted, all material on this site is &copy 2000-2005 Rebecca J. Stevenson