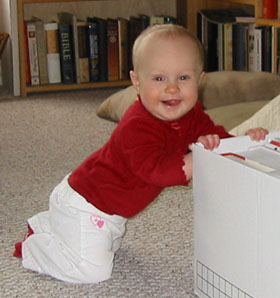 Working hard and having fun.
From our bedroom window you can see the full moon setting; from the kitchen a brilliant dawn is breaking. I like this apartment.
Lydia slept through the night again. Could we be on the verge of a breakthrough? She was a little nervous about mom last night--she's at the age where the concept of a stranger acquires meaning--but quickly relaxed and was her usual charming self.
It was all in all the busy day predicted. Took Jasper in to the vet (his second home); when I picked him up the vet was very pleased with his blood sugar levels and wants us to try just giving him the shot in the morning so he doesn't drop too low now. What a complicated disease. Oh, and we have to bring him back in another two weeks to see how he's doing on this schedule. Can we get him regulated before we go broke, please?
Then I went to the grocery store, still enjoying our big new Shaw's but also unhappy, due to all the reading of I've been doing, with the whole large store phenomenon. And I'm going to miss Donelan's, the little store I used to go to near the office. It was a full grocery store, and quite well-stocked, but about the third of the size of most new places. And they sold wine. I loved stopping there. Mom told me last night that they now sell truffles at the Wegman's in Erie, at least occasionally. Truffles! I've never seen a truffle the entire time I have lived on the theoretically cosmopolitan coast, and now they're for sale in Erie, PA. Americans have come a long way in the last fifty years. There are these two trends fighting it out--the... what shall I call it? same-ification of the entire country, the overwhelming prevalence of the same brands everywhere you go, the horrible things those brands tend to do to food. And then there is the fact that even the smallest town has a good chance of a decent Thai restaurant these days, most Americans now know what tofu is (even if they don't eat it), and they sell truffles in Erie, once famed as the most ordinary city in the U.S.
I will probably never understand the world.
But back to yesterday. After that I braved the chill wind to take Lydia out for a walk. One of the things I learned the last time I was unemployed is that getting out of the house is important, and so is getting some exercise. Now that the weather is getting decent again, this is more feasible.
There was also some cleaning to do, and some baking. I like to have fresh bread for visitors when possible. The one I've been making most often lately is called Country Hearth Bread and was published in Bon Appétit (and I only recently realized that I've been putting the accent in the wrong place for years). We ate it with Tuscan Chickpea Soup (from Cooking Light). I've been keeping track all month of what I cook and where it comes from, and Cooking Light is the source of the vast majority of my recipes. This is good, as it justifies my many years of subscribing to it, but I'm determined now to start cooking more often from other sources as well. I've also found that three weeks out of four, we'll get a pizza once a week because some occasion for being just too darn tired, or not having enough time, to cook will come up. Well, that shouldn't be a problem for a little while now. I really need to get those cover letters done today. And we're going to the museum, and I have no idea what to make for dinner tonight. And I need to work on this Web site a bit, too, as I've already received a pointed remark about the lack of archiving now that I'm doing this daily. So it should be another reasonably full day.
Country Hearth Bread
Starter:
2/3 c whole milk, room temperature
2/3 c warm water (105-115 F)
1 tsp dry yeast
1 tsp honey
1 3/4 c all-purpose flour

Dough
1 tsp dry yeast
1 1/2 c water, room temperature
5 1/2 c (or less) all-purpose flour
1/4 c olive oil
4 tsp salt (you may find the resulting bread on the salty side; I reduced it to 3 1/2 the last time I made this)

To make the starter, combine the milk and water in a large bowl. Sprinkle with yeast, stir to blend, and let sit for ten minutes or until dissolved. Add the honey, then whisk in the flour to form a smooth batter. Cover loosely with plastic and stand four hours; it will be thick and very bubbly. (You can do this the day before; put it in the fridge overnight and bring back to room temperature before proceeding).
Hopefully you have a stand mixer. Beat the yeast, water, 1 cup of flour, oil, and salt into the starter. Continue beating at medium-low speed for two minutes.
Beat in enough flour, 1/2 cup at a time, to form a smooth but sticky dough. The dough should not pull away from the sides of the bowl.
Knead for five minutes or so by hand or machine until smooth and elastic. Let rest uncovered for five minutes.
Form the dough into a ball (this is the instruction, but I'm not sure how you shape a near-liquid into a ball...) and place in a large ungreased bowl. Cover and let rise until doubled, about 1 hour 15 minutes.
Flour a large baking sheet. Punch down the dough and turn it out onto a floured work surface. Divide in half, and shape each into a six-inch round. Place on baking sheet. Let rise uncovered until doubled, about 1 hour.
Place rack in center of oven and preheat to 400F. Using a sharp knife, cut a half-inch deep X in the top of each loaf. Dust the tops lightly with flour. Bake until they are golden and sound hollow when tapped on the bottom, about 35 minutes. Cool on a rack if you can resist the temptation to eat it immediately.
| Top |

Except where otherwise noted, all material on this site is &copy 2005 Rebecca J. Stevenson