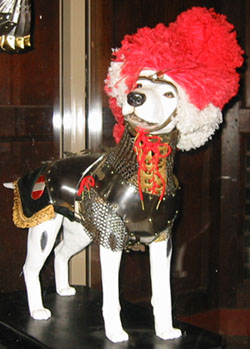 Dog armor, Higgins Museum, Worcester.
Lying awake in bed at quarter to five on an Easter morning, listening to the yowling of the cat (who is keeping everyone except the baby awake, in the mistaken notion that sunrise means breakfast). A sudden squabbling of geese from somewhere nearby, a chorus of smaller and more musical birds. The moonlight almost bright enough to read by. Smooth sheets and the warmth of down, a musical note from Lydia's room as she bumps against one of her crib toys in her sleep.
I gave up and got up a little after five, went into the library and read until the light was brighter and everyone else had gone back to sleep, deeply enough that my moving around wouldn't wake them. Put on some tea and with deep satisfaction contemplated the day ahead.
I noted yesterday in passing that times of stress make me want to cook. Though so far I'm handling my layoff quite well, I think, there is nevertheless a certain tension about the situation. Fortunately, today is a celebratory day, and I have all the excuse I need to cook up a storm all weekend.
Today I'll be making cheddar scones with cumin for breakfast. I think a simple wrap of some sort for lunch, a change from our usual scavenging ways (yesterday I made an acorn squash soup, it was quite good but resulted in a shocking amount of dirty dishes for that time of day, and also in my acquisition of a painful steam burn in one careless moment). Dinner will be steamed artichokes and a vegetarian paella, and then if it turns out right a layer cake with raspberry jam and raspberry frosting.
Good stuff. And if it's as nice as it's supposed to be out, we'll go for a bit of a ramble around the neighborhood. Yesterday afternoon we went to the Higgins Museum, a local collection of medieval (well okay, mostly Renaissance) arms and armor. It's a good-sized collection for one man to have amassed, and just the right size for a museum. You can spend a good couple of hours there and not feel that you've neglected the place. Museums I always find to be tiring out of proportion to the amount of walking done. The Higgins puts a lot of effort into drawing the community in; arms demonstrations, fencing lessons, a room for kids with costumes and books and big chess sets and helmets that you're allowed to try on, a little lecture (also mainly for kids) on the different types of armor used. Very basic, but you can tell they put a lot of work into the place, which is nice to see. They have a little library, and the obligatory gift shop. We enjoyed ourselves very much.
| Top |

Except where otherwise noted, all material on this site is &copy 2005 Rebecca J. Stevenson