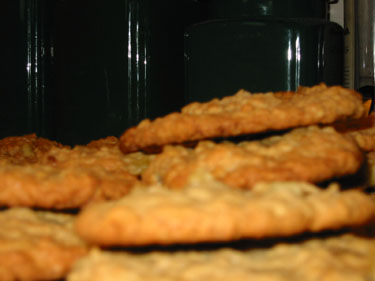 Apple Spice Oatmeal Cookies.
Watching a sleeping baby trying to get comfortable is one of those unanticipated joys of parenting. Lydia has a preferred position (and very undignified it looks, too) but can't always seem to decide if she really wants to use it, or if maybe she would prefer something else. So there's a few moments of squirming, flopping, sighing, and finger-sucking before she arranges herself perfectly and drops into deeper sleep.
Yesterday was another good day. We braved pouring rain to visit The Citadel, contributing our dollars to its continued existence. Target for diapers and a few other things, and then Babies R Us so grandma could exercise her grandmotherly prerogative and insist on paying for some clothes and a couple of toys which, to my delight, Lydia actually showed some interest in, though she did spend a good part of the evening later playing with a cardboard gift tag from an Easter basket my in-laws sent (along with clothes--Lydia need never fear going naked against the elements, I'm sure).
In addition I sent off a resume (yay) and made two different kinds of cookies, both from Tish Boyle's The Good Cookie, a book I seldom glance through but am now considering baking my way through. I told Dave yesterday that we'll be lucky if we don't both gain ten pounds while I'm unemployed; I tend to have a lot of nervous energy right now. Baking and washing the resultant dishes tend to be my preferred way of using that up, at least when it's not a good day for going outside (and when I do go outside, I usually seem to end up at the grocery store). We made Apple Spice Oatmeal Cookies, which I've made once before, and the aptly named Colossal Peanut Butter Cookies, because my mom likes peanut butter cookies. I've spent half her visit in the kitchen, I hope that's okay.
It ended up raining hard all day, so we didn't really get out much other than that one quick trip. Next visit with any luck we'll be able to plan more outdoor things. Today is grey and damp but not actually raining, and aside from things on the computer I don't really have any plans. There are cover letters to write, and the Spelljammer game to work on, and while Dave and Liddy are at the library I may even get back to that Revolution write-up, which has been languishing for, um, over a year I think now.
I do have time for all of my hobbies and interests in my life. I just don't have room for them and a full-time job. So I'm going to try to make the most of this little enforced vacation, hoping of course that it doesn't last too long. Three weeks would be just about perfect, I think.
And who knows, maybe I'll even finish chapter 11 of the novel. Even when I'm not working on it actively I think about the bloody thing frequently. I worry that the long-term plot won't work, that it's a waste of time, that it's chock-full of cliches and verges on stupid. But I still work on it, in my head if nowhere else. I wonder if it will ever be finished? It would certainly be nice. I do have ideas for a few more little projects, if and when that day ever arrives. To each thing there is a season, I suppose. It's learning to recognize the seasons that's the trick.
Apple Spice Oatmeal Cookies
Since neither of us is a big fan of nuts or raisins, I leave those out. I think these are awfully good without them.
1 3/4 c quick-cooking rolled oats
1 1/2 c flour
2 tsp baking powder
1/4 tsp baking soda
3/4 tsp salt
1 tsp ground cinnamon
1/4 tsp ground ginger
10 Tbsp unsalted butter, 8 of them (1 stick) softened
1 Granny Smith apple, peeled, cored, and cut into 1/4-inch cubes
2 Tbsp frozen apple juice concentrate
1 c firmly packed light brown sugar
1/2 c granulated sugar
1 large egg
2 tsp vanilla extract
1 c dark raisins
1 c chopped walnuts
Position rack at center of oven. Preheat oven to 350F. Lightly grease two baking sheets.
In a medium bowl, combine the oats, flour, baking powder, baking soda, salt, cinnamon, and ginger. Set aside.
Heat 2 Tbsp butter in a medium skillet over medium heat until melted and foamy. Add the apple and cook, stirring occasionally, until softened, about 3 minutes. Stir in the juice concentrate and cook for another minute, then set aside to cool.
With an electric mixer, beat the remaining butter and the sugars at medium speed until combined, about 1 minute. Add the egg and vanilla and beat until blended. At low speed, add the flour mixture one-third at a time, beating until just combined. Stir in the apple, raisins, and nuts.
Drop by rounded tablespoons on the cookie sheets, spacing 2 inches apart. Moisten your palm to prevent sticking, and flatten the dough mounds slightly.
Bake for 11 to 13 minutes, until golden brown on the bottom. Transfer to a wire rack and cool.
| Top |

Except where otherwise noted, all material on this site is &copy 2005 Rebecca J. Stevenson