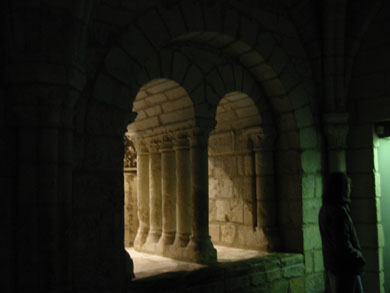 On Saturday we went to the Worcester Art Museum with Dave's sister, Beth.
Another rainy morning; the sky is the same murky grey as the fast-fading snowbanks. I made the mistake of going back to bed for twenty minutes after feeding the cats, so the alarm woke me out of an already-dissipated dream. I always find Daylight Savings difficult to adjust to.
Yesterday was cooking club, my monthly attempt to get out of the house and do something social. There were eight of us in attendance--it's a big group, which may cause a problem should I ever want to host. The theme was Moroccan; our hostess took the legs off her table so we all sat on the floor, on pillows wrapped in festive fabrics, and she got a couple of appropriate-sounding CDs, and of course everyone brought food. The menu was expansive; get eight women who like to cook together and, well, we do tend to have a lot of leftovers, but only because there's only so much one can eat.
For starters there were two different salads, one a tomato and avocado mixture, the other oranges, dates, and slivered almonds, sweet enough to have been served for dessert. Someone had made chai martinis, of all things (of dubious authenticity, and I skipped those after last month's lethal-but-good blue cocktails). There were pistachios roasted with some sort of spice mixture, and dried apricots.
After we'd recovered from that, more dishes loaded the table to groaning. A pork stew over couscous, a fish tagine, chicken roasted with spicy vegetables, and a potato dish. And my own small contribution, white beans with saffron, which much to my relief had thickened up nicely since making it earlier in the afternoon. It was one of the few non-spicy things on the menu. I liked it, though I also felt a touch self-conscious about bringing something so homely (but not everyone should bring a meat dish, right?).
For dessert there were almond cookies, a date-nut cake, and fruit with cinnamon, and we sipped mint tea, which made for a refreshing finish.
It's a wonderful group of people, though I felt like I was perhaps being too quiet. But I didn't have any good stories about traveling, and we can't afford to go out to eat right now, and I am blessed with a husband who eats anything I cook, so the main topics of the evening were not ones to which I felt I could contribute a whole lot. I enjoyed listening, though. They're a fun bunch, enthusiastically making plans for the next few months of club themes--Cinco de Mayo, a crawfish boil, maybe a restaurant crawl for a change of pace. And one of them informed me of a good butcher not too far from where we live, so I'm going to go check that place out, possibly today if I can muster the energy to do anything on such a grim-looking morning.
| Top |

Except where otherwise noted, all material on this site is &copy 2005 Rebecca J. Stevenson