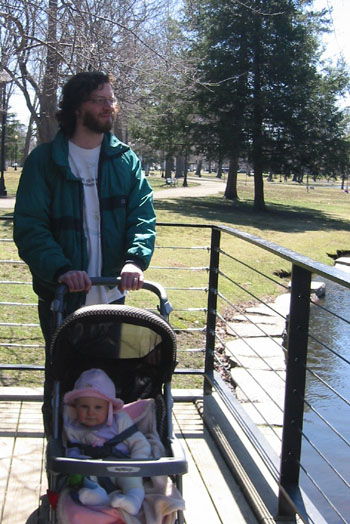 Dave and Lydia at Elm Park.
What a perfect day. Brilliantly clear, with a bit of chilly wind but still definitely spring. The morning consisted of the obligatory trip to the supermarket to pick up this week's sale flyer and a few essentials, then the happy work of the week's menu planning (after all, I might have a job by the end of the week...). Then we pitched with good cheer into stemming the tide of entropy that has recently threatened to overwhelm the apartment: tidying books, tossing out accumulated junk mail, putting toys in their places, doing dishes. After lunch we went out, intending to visit Institute Park, near Worcester Polytechnic, but they don't appear to have any trails suitable for strollers, so we diverted to Elm Park instead.
There were a ton of people out taking advantage of the weather, having picnics, feeding the geese in defiance of signage, kids playing soccer, old people walking and riding bikes, college students committing gleeful mayhem in the course of an ultimate frisbee game, and a small group of young people filming a movie scene (they were taking and retaking the same shot the entire time we were there). Lydia got her usual share of adoring comments, enough to turn any parent's head. We walked around and around, soaking in the light, exclaiming with joy over the sight of turtles in the pond, a tree in flower, geese flapping around foolishly, kids bolting around giddily. Lydia took it all in and appeared envious of the little runners.
She's still not engaged in classical babbling yet (no goo-goo, ga-ga, let alone a ma-ma), but she has been chattering up a storm these past couple of days with the sounds she does make, so I'm hoping she's on the verge of a breakthrough there. She's pulling up on just about everything in sight now, and hugely proud of herself. She's a good-natured little kid; I count us inordinately lucky.
Back to the day. We returned home, somewhat sleepy with sunshine and fresh air, spent the rest of the afternoon in play, nap time, and finishing up the housework. I read Erma Bombeck's The Grass is Always Greener Over the Septic Tank and was mildly comforted about the impossibility of us ever buying a house, at least in Massachusetts (yesterday I went online and used one of those mortgage calculators, which told me that we could afford a $200,000 home loan; unfortunately even in central Mass, let alone eastern, two hundred grand will buy you, at best, a tear-down). Who cares? Today I will make focaccia!
| Top |

Except where otherwise noted, all material on this site is &copy 2005 Rebecca J. Stevenson