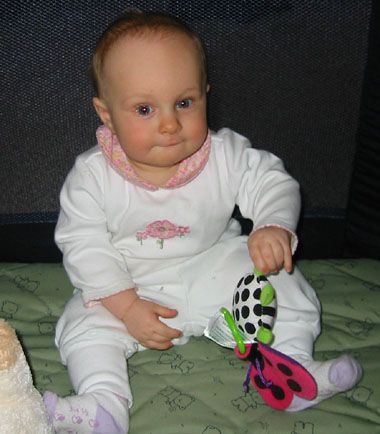 Kawaii!
Fantastic Focaccia
This recipe was originally for a bread machine; I made it with a stand mixer. The result is far and away the best focaccia I have ever made, and close to the best I have ever eaten, well worth the trouble of creating the starter. It puffs up quite grandly in the oven, coming out with a crisp bottom crust and thick, chewy interior full of beautiful air bubbles (seems a bit odd that one of the most important parts of bread is air, but it is). We nibbled our way through quite a bit of it over the course of the afternoon.
1/2 tsp yeast
3 c all-purpose flour, approximately, plus 1 Tbsp
1 1/2 tsp coarse salt
1 c sourdough starter
1 1/2 c water, approximately
2 Tbsp olive oil
1 tsp coarse salt
How much flour and water you need to use depends on how wet your starter is, how dry your flour is, and probably a few other things. Your goal is a very wet dough that just barely holds a shape. I used a half cup less than the flour called for and added more gradually during the kneading process until it achieved that consistency.
Combine yeast through water in bowl of mixer.
Knead (and you really can't do this by hand, I don't think) for about fifteen minutes.
Remove the bowl, or remove the dough to a second, lightly oiled, bowl. Sprinkle the top of the dough with the tablespoon of flour, cover with plastic wrap, and place it in the refrigerator for 12 to 18 hours.
Place the dough on a lightly floured work surface. Punch it down and form it into an 11-inch disk, then place it on a baking sheet or pizza pan or wooden paddle that has been lightly sprinkled with cornmeal (I used a sheet pan). Cover the dough with a clean towel and refrigerate for another 4 hours. Then take it out of the refrigerator and leave it, still covered, at room temperature until it doubles in bulk; this may take up to 2 hours.
Preheat the oven to 475F with the rack/stone/tiles/whatever you bake on in the center position.
Just before baking, lightly press your fingertips into the dough to make indentations. Drizzle with the olive oil and sprinkle with salt.
Bake for 18-22 minutes, until the top is crusty and a rich golden brown. Eat hot, warm, or cooled, but it is best eaten the day it is made (this will probably require the assistance of several friends, as the loaf is quite large, but I guarantee they won't mind helping).
This was originally from Lora Brody's Pizza, Focaccia, Flat and Filled Breads from Your Bread Machine - Perfect Every Time and came to me by way of the Cooking Light magazine bulletin boards, which are full of enormously helpful, friendly people. I post there as veschke, if you ever stop by.
| Top |

Except where otherwise noted, all material on this site is &copy 2005 Rebecca J. Stevenson