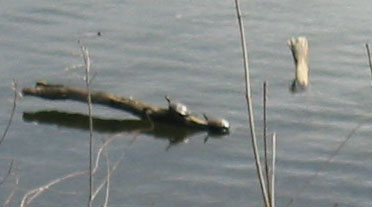 Turtles in our back yard.
DAILY RAMBLING
Lydia crawled! Last night, during a cease-fire in the nightly battle to get her pajamas on, she rose wobbling to hands and needs and shuffled away. Amazing sight. We had assumed that she was just going to go straight from creeping to walking, as she hasn't shown a lot of interest in crawling, but maybe it was just a traction problem. She is getting better at pulling up every day; over the weekend we lowered her crib so that if she did manage to stand up in it she wouldn't tumble out, and I'm told it was probably just in time.
Not much happened yesterday. The temperatures are still down from their recent glorious height, but we went for a long walk in the afternoon despite a stiff breeze that made my ears ache. Worcester is nestled in among very hilly territory (claims to be a "city of seven hills" are a bit silly though); we climbed the one to our immediate west, winding through pleasant residential neighborhoods of mostly small homes, and were eventually rewarded with a view of pretty much the entire city.
Yesterday I made duck for the first time, attempting to recreate a menu described in Amanda Hesser's charming Cooking for Mr. Latte. The duck is simmered until almost falling apart, with soy sauce and sugar, then the next day roasted to attain a crispy skin. The broth (stock?) is used to baste the duck and also as the liquid for rice. I steamed some baby carrots rather than attempt a more complicated side dish. It made a very good meal, though the I'm sure the duck would have turned out better had I let it warm up more before roasting, and had I roasted it breast side up! Basting didn't do it a lot of good upside down. The rice was very sweet from the sugar in the broth, and I'm not sure basmati was a good choice; regular long-grain might have worked better. But overall it was a pretty successful attempt.
| Top |

Except where otherwise noted, all material on this site is &copy 2005 Rebecca J. Stevenson