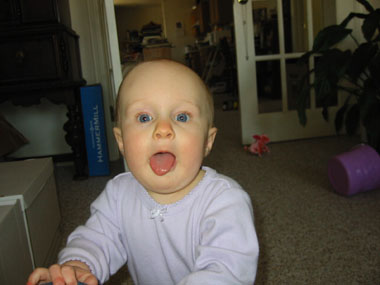 Lest you think that she is always smiling.
DAILY RAMBLING
Now that we have a hard drive with some normal amount of space on it, I've finally started ripping my CDs, and have come to one solid conclusion: Gaelic words have three times as many letters as they need.
Very busy day yesterday. Three more resumes out, still no word on the potential jobs. In the morning I took Lydia to: the post office to return a package, the vet for cat food, then the Citadel for necessities like wipes and shoes for her, and arguable frivolities like socks with cats on them for myself. We drove the back way, of course, as it was a beautiful day, a slow and winding drive along alarmingly unkempt roads through old neighborhoods and farmland that is rapidly being turned into $500,000 homes. Almost stopped at Allaire's Heritage Garden on the way back for plants, but Lydia was tired and I was hungry, so left it to another day. After lunch we all went for a walk to the park, where Lydia walked barefoot on the grass (with help), and then we ran a couple more errands, with the result that for once I felt quite at peace with my daily exercise requirements.
I can at least say that I have been using my time productively during this period. The towel rod has at last been hung in the bathroom (whoever decided that its pieces need to be tightened, in situ, using the world's smallest Allen wrench, from underneath should be tracked down and shot at once). Lydia's room has a curtain, however inexpertly placed. I've spent some time on my novel. I've done a ton of cooking, and a fair bit of reading, and gone on many walks. I haven't watched any TV at all (because we don't get any channels). If our landlord wasn't so nervous about having tenants paint, I'd be doing that (white, white white! ugh!). Or trying my hand at tiling, since for some reason the wall above the stove is just painted.
Today I'm going to do some baking, though I haven't decided what to make yet. I'm making an effort to do one new kind of cookie every month, and have long been interested in the New York "black and white," so perhaps I'll give those a try, though I think you need corn syrup. There will certainly be chocolate chip cookies, and probably another favorite kind or two as well, to tuck into the freezer against a not-too-distant (I hope) future when free time is harder to come by.
| Top |

Except where otherwise noted, all material on this site is &copy 2005 Rebecca J. Stevenson