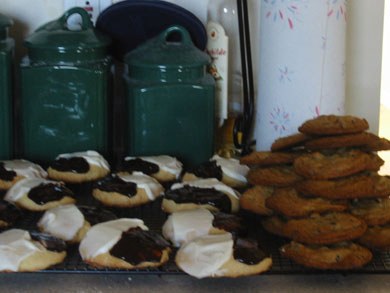 New York Black and Whites, and my standard Toll House
DAILY RAMBLING
I think I might have to subscribe to Saveur. Their current issue is all about cheese! A subject which certainly warms my heart, little though I will admit to knowing about it. One of my regrets about leaving Boston is my failure to take advantage of living practically around the corner from the Wine & Cheese cask; I was too easily intimidated. But I am enjoying reading this issue. Perhaps I will try a new cheese every month, along with the cookie (not at the same time, probably!).
Speaking of which, the cookies yesterday turned out fairly well--they're yummy! The only problem being that I have never had an authentic black and white, so I'm not sure how close these are to that. The ones I've seen were bigger and a lot flatter, and my chocolate glaze turned out pretty thin (I think the recipe calls for too much cream). These things should be easy enough to adjust next time.
Tish Boyle's New York Black & White Cookies
Vanilla Cookies

2 c all-purpose flour
1 tsp baking powder
1/2 tsp taking soda
1/8 tsp salt
1/2 unsalted butter, softened
1 c granulated sugar
1 large egg
2 tsp vanilla extract
1/2 c sour cream

White Glaze

1 c confectioners sugar
3 1/2 Tbsp heavy cream
1/8 tsp vanilla extract

Chocolate Glaze

3 oz. semisweet chocolate, coarsely chopped
1/4 c heavy cream
1 Tbsp light corn syrup
Position a rack in the center of the oven and preheat to 350F. Prepare two large baking sheets.
In a medium bowl, whisk together the flour, baking powder, baking soda, and salt.
With an electric mixer, using the paddle attachment, beat the butter until creamy, about 30 seconds. Gradually beat in the sugar, mixing until well combined. Add the egg and vanilla and beat until well blended. Scrape down the sides of the bowl. Add the flour mixture in three additions, alternating with the sour cream in two additions, beating well after each.
Using a 1/4 c ice cream scoop or measure, scoop mounds of dough onto the baking sheets, spacing them 3 inches apart. Moisten your palm to prevent sticking, and pat the dough into 2 1/2-inch disks. Bake the cookies one sheet at a time for 15-17 minutes, until the cookies are begin to turn light golden brown. Cool on the sheets for 2 minutes, then transfer to a wire rack.
To make the white glaze, whisk together the confectioners sugar, cream, and vanilla until smooth. Cover the bowl until ready for use.
To make the chocolate glaze, place the chocolate, cream, and corn syrup in a double boiler over barely simmering water. Heat, stirring occasionally, until smooth. Let it cool until tepid, about 10 minutes.
Spread the white glaze on half of each cookie. Let set about 10 minutes.
Spread the chocolate glaze on the other half. Let the cookies set at room temperature for at least 45 minutes
Makes about 14 large cookies.
| Top |

Except where otherwise noted, all material on this site is &copy 2005 Rebecca J. Stevenson