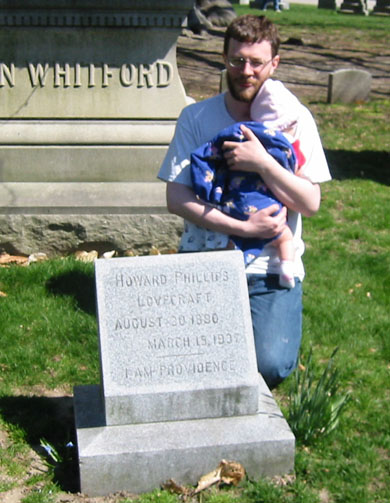 Dave and Lydia at Lovecraft's grave.
DAILY RAMBLING
As we drove home yesterday we passed a time and temp sign claiming that it was 82 out. I am in heaven, though we do need some rain now.
Unemployment has been making me antsy, so I proposed a day trip down to Providence, RI, a city we have long meant to visit. It's less than an hour away down Rt 146, not a bad drive by any means. We landed with no trouble at all at the Roger Williams Memorial park, where they have a small visitor center with all the information you could ever want and, far more important for the casual tourist, a bathroom (with changing table). We got directions from some friendly locals, walked up to a nearby Whole Foods for drinks, and had a picnic lunch of cheese and homemade bread in the park, which would have been worth the drive all by itself.
Thus fortified, we wandered around. A fair bit of historic Providence is concentrated in the area around RISD, on Benefit St., and we walked around (and uphill! very steep town) and appreciated the old buildings and the young hipsters. One of the attractions of the city is that it was home to H.P. Lovecraft, a writer little appreciated outside certain fantasy circles, I think, but whose peculiarly ornate horror tales leave a strong impression on those who encounter them. We climbed the hill to take a look at Brown but didn't really have time to check out the campus, walked down Benefit St. and located the Lovecraft monument and a house about which he apparently wrote a story, then returned to the car and drove out to Swan Point Cemetery, where he is buried. The cemetery is actually in Pawtucket, I think, in a well-to-do area, and quite large and well-kept. When we looked out onto the water we did indeed see several dozen swans, but they were too far away for my picture to turn out.
By that point we were wiped out from the hills, and Lydia had gotten cranky and fallen asleep, so we decided to save further explorations for another day and made the quick trip back home. Today Liddy has a checkup scheduled, but other than that we plan to relax at home.
| Top |

Except where otherwise noted, all material on this site is &copy 2005 Rebecca J. Stevenson