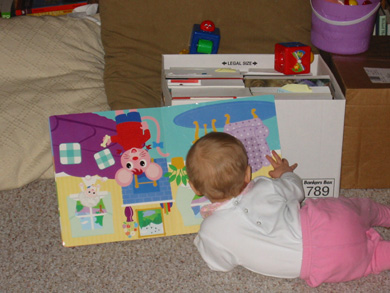 Texture books are a big deal right now.
Do not be surprised if there are no updates Monday through Friday here; I'm going to be driving down to the Foxboro neighborhood this week to get up to speed on the product I'll be documenting, and expect my mornings to be a little rushed. After that I'll probably be working from home, and should have time to do a morning update again.
Another packed day, but this time it was packed with Lydia--Dave was away all day working on a project. It was pouring most of the day, so we didn't go out, and by evening I was pretty wiped out. I am constantly amazed at what single parents must go through. I guess they get better at ignoring demands occasionally. I did get some laundry and other household tasks done, at least.
Per our pediatrician, we're working at incorporating table foods into her diet (a bit late, probably). Yesterday's experiment was scrambled egg, which was not well received. Occasionally I have to be reminded that she hasn't liked any solid food (except yogurt) on the first try. On the other hand, she did try to eat some bits of cardboard later that day.
The main event yesterday was my purchase of my very own laptop, for work purposes. I did end up buying a Dell, which should arrive in a week or so—despite my longstanding desire for a PowerBook, most of the software used for online help creation is Windows-only, and this client in particular is, too. I don't want to deal with the hassle of running a Windows emulator all the time to get my work done (though compared to the hassle of running Windows itself, I may regret that choice). The market is going through something of a shakeup with the recent purchase of Macromedia by Adobe, and it may well be that in a couple of years we'll have cross-platform help authoring tools, or platform-independent ones like XML, but for what I need right now, it seems a PC is it. We still need a printer (we have existed as a computer-using household for what? eight years now? without ever owning one, but the paperless home is about to come to an end) and some software, and I'm finally going to replace my embarrassingly antique, poorly-serviced cell phone.
I'm really excited about this job.
| Top |

Except where otherwise noted, all material on this site is &copy 2005 Rebecca J. Stevenson