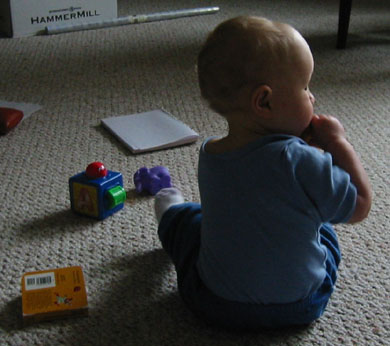 Content during the game.
Second in a row of grey, damp mornings. Had a wonderful day yesterday, though I tried to do too much in the morning, with the result that breakfast was a bit delayed. But we did get underway in reasonable time, spending the morning on character creation and background (a gambler, a displaced indigene, and an electrical/mechanical wiz, all equipped with giant robots, land on a frontier planet...). It was a solid introductory adventure, letting us get the feel of what we were doing (with loads of juicy genre stuff, of course) and introducing plenteous aspects for future play without being overwhelming. I for one am thrilled by the idea of an adventure that lasts longer than the course of the afternoon, and am looking forward to the next time we meet up (which will, one hopes, be less than the interval between the last two sessions). For the curious, we're working in BESM, a system which gets high marks from me for mostly not being insanely complicated (though I didn't have to build my own giant robot, which can be).
Lydia seemed to have fun, too. She was nervous of the strange people at first, but eventually relaxed. We had been worried that she would want to be all over the apartment, but she seemed pleased to have us all sitting on the floor in the library, and happily crawled and cruised around the room all day, playing with whatever people would let her touch (no choking hazards, naturally). She did not enjoy her dinner of rice and vegetables at all (we're still working on the lumpy foods thing), but was cheerful while we all went to the local diner for our own supper. I had a dream last night that she took her first independent steps; wonder how long it's going to be?
Today there are a few things that need to get done (like getting out a turn for my own game, which is dreadfully late), and this evening I have cooking club, which is always fun. Tomorrow, working from home!
| Top |

Except where otherwise noted, all material on this site is &copy 2005 Rebecca J. Stevenson