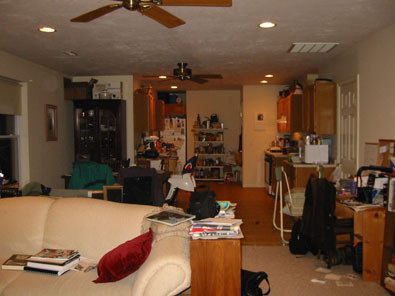 Entropy!
DAILY RAMBLING
We had a request for pics of our living space, so here's one to get started. It was taken from the library doorway; the front door to the apartment would be on the immediate right, with the door to our bedroom just past it, and the wall with the TV on the left. Invisible behind the couch are some bookcases containing the gaming, food, and Japanese language collections, as well as the stereo, and Lydia's Pack n' Play, which she usually loathes (give me liberty!). The little desk over to the right is where I work when I'm working at home; our main household computer is in the library. There are coats everywhere because this place doesn't have a coat closet and we haven't gotten around to getting a tree, rack, or other storage solution yet.
In the back there is the dining area and kitchen; to the right where there's that break in the line of cabinets, is a door leading to the bathroom, linen closet, and Lydia's room. The door you can see is the utility closet.
And yes, it's a bit of a mess. Babies tend to do that.
| Top |

Except where otherwise noted, all material on this site is &copy 2005 Rebecca J. Stevenson