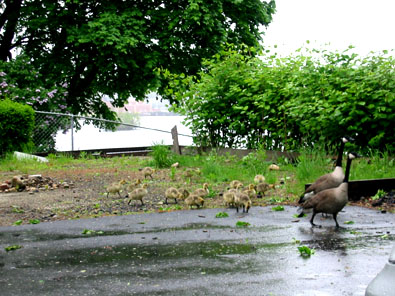 Watch out for goslings--eighteen of them in our driveway.
DAILY RAMBLING
It has not been a good week for commuting. On Monday, a horrible accident on 495 translated into a two-hour drive home. Tuesday and Wednesday, a combination of the weather, road repair, general traffic, and not entirely knowing where I was going (I am not used to driving in East Cambridge) led to a total per-day drive-time of three hours. Next time I have to go to Cambridge I think I'll try the train; it will certainly take at least as long (due to work on some of the Green Line it'll be train to South Station, Red Line to Gov't Center, shuttle bus to Lechmere--joy), but maybe I can eke out a couple of billable hours rather than inventing names for Hummer drivers.
It was nice to be back in Cambridge, though. To drive along the Charles, even an iron-colored, angry-looking Charles devoid of scullers after all this apparently-endless rain. To see how they're coming along with the new condo complex taking the place of the candy factory on First St. To stroll through the old ATG space (considerably less of it than there was when I worked there--four years of layoffs mean the company is about a fifth of the size it was when I was hired in 2000). Every once in a while someone recognizes me.
They have me working on installation guides for the release next month, which is a nice change of pace from my other contract. That is one strong upside to the freelance lifestyle: lack of boredom. There is no chance that you'll end up writing and revising the same material over and over and over, and there's always lots to learn, which translates into lots you can put on your resume, which if the world is working correctly means more and better jobs down the road. I can put up with six weeks of grotesque commutes if I get to learn about application servers as a result.
| Top |

Except where otherwise noted, all material on this site is &copy 2005 Rebecca J. Stevenson