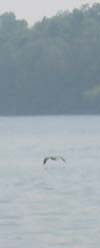 The photo to the left is of a heron we spotted from aboard the ferry across Lake Champlain. Very warm, hazy afternoon, as was much of the weekend until the last ragged remnants of Tropical Storm Allison made it up toward the Canadian border and brought blessed rain.
Had a great weekend in the wilds of upstate New York—I highly recommend reunions. Other peoples', at least, appear to be a great deal of fun. To be specific, we spent Saturday evening at my husband's ten-year high school reunion, the highlights of which I will now recap for you, my audience (it's too dang hot to think about missile defense, which is what I'd otherwise be ranting about).
Good: Getting to meet a lot of people one has heard mentioned umpteen times, and hearing a ton of bizarre stories about same. When they say that truth is stranger than fiction, they're usually right.
Bad: Trying to keep them all straight in your head later on.
Good: The fact that you're not likely to see any of them ever again (unless it's at the twenty year reunion), so keeping their names straight doesn't matter much. Plus, they tend to wear nametags.
Bad: The music. 1987-1991 was a time when there was surely good dance music being written, recorded, and played... somewhere, but not in the high schools of Middle America. There was Michael Jackson after he'd gone over to the side of evil, Guns 'n Roses, Def Leppard... when they played Whitesnake's "Here I Go Again" we decided it was time to flee into the rain-filled night. I have very fond memories of hair metal, but you can't really dance to the stuff.
Good: Watching other people trying to dance to said music.
Bad: Banquet rooms without air conditioning.
Good: Conversation is pretty effortless, since you more or less move from one group of people to the next telling them what you've been doing these past ten years (or in my case, telling them who the heck I was)—where you live now, what you do, and then a mutual check for advanced degrees, marital status, children or lack thereof, hairline shifts (for the men) and weight shifts (for both men and women).
Weird: Being given an inebriated guest's entire life story, replete with material for several movies of the week, and apparently heedless of the fact that she'd only met me a couple of hours before.
On the whole, a thoroughly enjoyable event.
| Top |

Except where otherwise noted, all material on this site is &copy 2003 Rebecca J. Stevenson